10 – Day Israel Experience
September 5 – 14, 2017
Deposits Due by July 5
15 spaces still available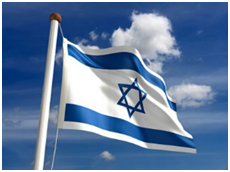 Day 1 – Tuesday, September 5: Arrival and Jerusalem
Everyone arrives at the Ben Gurion Airport in Tel Aviv and is taken to our Guesthouse where we check in, have dinner, and listen to the Orientation. Dinner & overnight in Jerusalem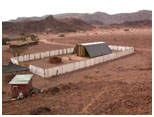 Day 2 – Wednesday, September 6: The Samaria
This morning, we welcome Abraham as he enters the Promised Land. At Mt. Gerizim, we speak of Joshua's entrance into the land and the covenant the people made with their God. We then visit Israel's 1st capital, Shiloh, always our groups' favorite location before sharing a bar-b-que dinner at the home of our Tour Director and his wife. Dinner & Overnight in Jerusalem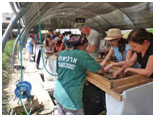 Day 3 – Thursday, September 7: Jerusalem
Today we view Jerusalem from atop the Mount of Olives and discuss this ancient city. We then spend time working alongside Israeli archaeologists who are uncovering ancient treasures from the Temple Mount. Afterwards, we enter the original city of Jerusalem (the City of David) and walk through Hezekiah's Water Tunnel before visiting the Temple Mount's Southern Wall marketplace where Jesus walked with His disciples. Dinner & overnight in Jerusalem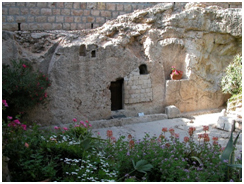 Day 4 – Friday, September 8: Jerusalem
We begin our day at the Garden of Gethsemane before visiting the Pool of Bethsaida, where Jesus healed the lame man. We then visit the Garden Tomb before spending time is the Valley of Ben Hinnom. Tonight, we have the special privilege of sharing a Shabbat supper with a Christian couple and several Israeli soldiers. Overnight in Jerusalem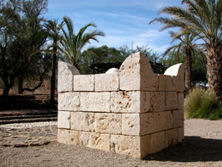 Day 5 – Saturday, September 9: West & South
Today we visit the valley where David slew Goliath and we will pick up our own 5 stones from the same brook where David picked up his stones. Our next stop is the ancient tel Beersheba, home to Abraham and the well he dug 4,000 years ago. We then visit tel Arad, where the wandering Hebrews first encountered the walled cities of Canaan and where their spies gave a bad report. Dinner & Overnight at Masada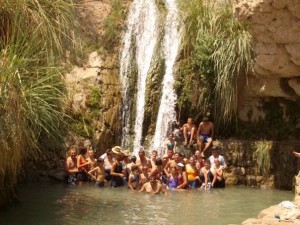 Day 6 – Sunday, September 10: Dead Sea Area
This is our day to tour that most impressive fortress of Masada built by Herod the Great. We will swim (float) in the Dead Sea before enjoying the cool waters of Ein Gedi. Dinner & overnight at Ein Gedi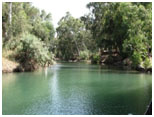 Day 7 – Monday, September 11: To the Galilee
We now head north, along the Jordan River, to Qumran for a discussion of the Dead Sea Scrolls community. We will stop at the location of Jesus' baptism by John the Baptist for anyone who wishes to be baptized in that very location. Dinner & overnight on the Sea of Galilee
Day 8 – Tuesday, September 12: Sea of Galilee
This is our day to visit the places of Jesus' ministry around the Sea of Galilee: Peter's Primacy, the Mount of Beatitudes, Korazim, Jesus' hometown of Capernaum, and Kursi. We raft the Jordan River before our dinner & overnight on the Sea of Galilee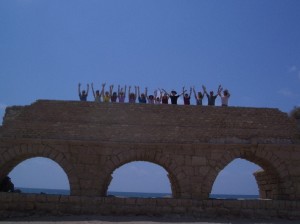 Day 9 – Wednesday, September 13: Coast
Our day begins on Mount Carmel with a discussion of the prophet, Elijah, and the prophets of Baal. We then visit the amazing port city built by Herod the Great, Caesarea. Dinner & overnight in Tel Aviv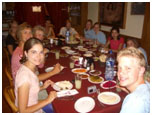 Day 10 – Thursday, September 14: Final Day
We begin our final day in the Land at Israel's Independence Hall for a reenactment of Israel declaring her independence in May, 1948. We then visit the world's oldest port city, Jaffa, before attendingour Final Dinner in Tel Aviv.
When you arrive home, people will ask about your trip to Israel. You will have had such a spiritual experience, you will have difficulty responding…
Prices for a minimum of 15 travelers:
$1,568.00 for 2 sharing a room
$1,514.00 for 3 sharing a room
$1,487.00 for 4 sharing a room
$1,433.00 for 5 sharing a room
Price Includes:
All accommodations
Transportation within the Land
All-you-can-eat buffet breakfasts & dinners
Experienced tour guides
All admission fees to locations and all special events
Total Jerusalem Experience
Meetings with Israeli Jewish & Christian families
Working alongside archaeologists
Rafting the Jordan River
Being baptized in the Jordan River (if desired)
Boat ride on the Sea of Galilee (if included in the itinerary)
Tips (which most "regular" tours do not include)
Not Included in Price:
R-T flight to Tel Aviv
Most lunches (we are on the road and stop where various choices are available)
Personal items (i.e. bottled water)
Souvenirs
Trip Interruption and/or Trip Health Insurance (if desired)
If you are interested in joining this Experience, let us know using our Contact Us Form.